Winter is here and many rodents have decided to find a warm spot in homes across come into their homes across New England. Pests seek shelter from the cold temperatures and will do anything they can to find their way indoors. Pests that are seen indoors most often during the winter in New England include rats, mice, spiders, cockroaches and some wildlife. These winter pests can be a hassle to deal with on a daily basis but what many people don't realize is that they pose major health risks. These health risks can be avoided by calling a NW Pest Control professional for a winter rodent inspection before they become a problem on your property.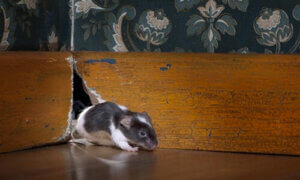 Rats and mice are known to spread a number of different diseases. They can spread in a several ways including handling of dead or alive rodents, contact with rodent feces or urine or by being bit by an infected rodent. Both rats and mice can contaminate any food that they get into and trigger allergies by being in your home. Rodents also pose the threat of bringing other pests, such as mites, fleas or ticks into your home. 
If you think you may have a winter rodent problem, the best plan is to call a licensed professional. NW Pest Control is a leading provider of winter rodent removal services in New England and has been exterminating rodents from all types of property for years. We know what to look for when we start a winter rodent removal case and use this knowledge to get the job done quick. NW Pest Control offers free in-home pest inspections. We can help determine what type of pest you are dealing with in your home. It is safest to eradicate these pests as soon as possible so you and your family stay healthy all season long.