Over the past several years Boston bed bug extermination has become a huge issue. With students almost always changing residences once a year, Boston has been hit hard by the rise of bed bug infestations. Finding a reliable Boston bed bug extermination service can be challenging. Bed bugs are able to travel in used furniture, clothing, and luggage so all signs can point to them being eliminated but after a few days they will appear again. Bed bug activity will slow down with the colder months of winter officially upon us but they shouldn't be forgotten about.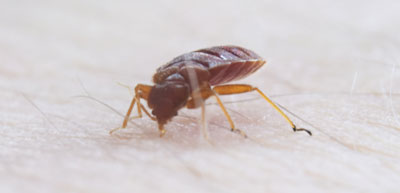 NW Pest Control offers the best Boston bed bug extermination service. Our expert pest exterminators have years of experience handling bed bug infestations of all sizes and are trained to be able to locate an infestation on all types of property. Identifying the location of the bed bug infestation is a critical step in the bed bug removal process. NW Pest Control offers free on-site pest inspections so we can get a good look at your property and get a feel for the scope of the infestation before we begin treatment. It is also helpful if you write down any observations of the bed bugs you've been able to make that can clue us in on their whereabouts.
We can begin our bed bug extermination treatment once we have identified the source of the bed bug infestation and put together a bed bug extermination plan. Our team has the knowledge to employ a number of different bed bug extermination methods. Some techniques we use will require you to leave your home for a few days but we normally begin with less obtrusive bed bug removal measures. We can target a couple of rooms in your home in the case of a smaller infestation but NW Pest recommends getting your entire property treated for bed bugs if you want to be sure the issue has been resolved.
After completing our Boston bed bug extermination treatment you can go back to enjoying time spent at your home. We understand how important it is to be able to go home and relax during the colder months and will do our best to eliminate bed bugs on your property quickly. Get your Boston bed bug infestation removed with NW Pest Control today.